Houses and exhibits 53 railway vehicles

From steam locomotives to Shinkansen bullet trains, the museum houses 53 railway vehicles that make up an index of Japan's modernization efforts.
Examples of these historically valuable railway vehicles would be the first edition of the 0 Series Shinkansen, the 500 Series Shinkansen that made the Guinness Book of World Records for reaching speeds of 300 km per hour, and the C62 steam locomotive, boasting to be the largest in its class to tow post-war express trains.
Railway diorama

The museum's giant diorama, measuring roughly 30 meters in width and 10 meters in depth, is operated by an attendant and features model trains that are about 1/80th the scale of the actual trains. The diorama replicates the rail yard and other facilities indispensable to the railway and lets visitors to experience the railway system as the models run along their tracks.
We will reduce the number of people.
Time schedule *1
①10:45 ②12:15 ③13:00 ④13:45 ⑤14:30 ⑥16:00
[*1]

Subject to change based on number of visitors.
Operating simulator

Visitors can experience the job of real train conductors by using a simulator used for training.
Visitors can learn the job of a conductor from all different angles: from being introduced to the bags they carry during operation and the tools they use to trying on the clothes they wear.
Experience the driving simulator
A ticket is required for the operating simulator experience. Tickets are distributed by lottery.
STEP 1

Show your museum entrance ticket at the Operating simulator desk on the second floor of the main building. You will be given a lottery ticket.

STEP 2

Please look at official website. The lottery results will be informed on the website at the times shown on the chart below.

STEP 3

If your drawing ticket selected by lot, check the meeting time and experience start time. Please come to the Operating simulator desk on the second floor of the main building.
| | Tickets issued | Lottery results | No. of winners | Simulator experience time |
| --- | --- | --- | --- | --- |
| 1st | ~10:10 | 10:15 | 16 | 10:30~ |
| 2nd | ~10:25 | 10:30 | 40 | 10:50~ |
| 3rd | ~11:25 | 11:30 | 32 | 11:50~ |
| 4th | ~12:25 | 12:30 | 40 | 12:50~ |
| 5th | ~13:25 | 13:30 | 40 | 13:50~ |
| 6th | ~14:25 | 14:30 | 40 | 14:50~ |
| 7th | ~15:25 | 15:30 | 32 | 15:50~ |
| 8th | ~16:05 | 16:10 | 16 | 16:30~ |
You can enter the lottery once per museum entrance ticket. We appreciate your cooperation in this.
May be subject to change when the museum is crowded.
Winners cannot select the time of their driving simulator experience. Please check the time.
The SL Steam

We continue to offer the hugely popular SL Steam interactive exhibit at the Umekoji Steam Locomotive Museum where visitors can ride in passenger cars pulled by actual steam locomotives. The 1km round-trip takes about 10 minutes, and gives visitors a small taste of how it felt to travel by steam locomotive.
We will disinfect after each operation.
Push chairs are not allowed onboard the SL Steam. Please leave them in the push chair park before boarding the train.
Be careful of the soot and smoke for your clothes.
We will operate with less capacity.
Fees
Tickets for the SL Steam are issued when the museum opens. Please buy them from the SL platform ticket machine.
Adult,and University and High school students
Junior high and elementary school students,
and pre-school children aged 3 or older
300 yen
100 yen
There can be no refunds or exchanges once tickets have been purchased (this also applies if you miss your train).
Please keep an eye on the time when looking around other exhibits or interactive displays.
SL Steam Railway Vehicles
The steam locomotives introduced here go into actual operation at the museum.
For a schedule of which locomotives are driven at what times, check with the museum's information center on the day of your visit.

C56-160

Manufacture of these small steam locomotives began in 1935. They were used for passenger and freight trains.
Manufacturer : Kawasaki Sharyo / Year of manufacture : 1939 (Showa 14)

C61-2

The first passenger train steam locomotive installed with a mechanical stoker.
Manufacturer : Mitsubishi Heavy Industries / Year of manufacture : 1948 (Showa 23)

C62-2

Japan's iconic passenger train steam locomotive. This one was used for the Tsubame limited express.
Manufacturer : Hitachi / Year of manufacture : 1948 (Showa 23)

8620-8630

Japan's first mass-produced steam locomotive for passenger trains. It was designated as an important cultural asset in 2016.
Manufacturer : Kisha Seizo / Year of manufacture : 1914 (Taisho 3)
Schedules are subject to change due to operating status of the locomotives and vehicles used.
Look
Take a look at railway culture! Our impressive displays include real trains and 1/80 scale railway models!
A must for steam locomotive fans!
The connecting deck and SL No. 2 Service Station
The connecting deck on the main building 2F offers a great view of Kyoto, and of the roundhouse below with its array of steam locomotives.Visitors can watch steam locomotives being inspected and serviced in the newly-constructed SL No. 2 Service Staion in the Umekoji operating zone.
Depending on the work being performed, there are occasions when visitors will be unable to watch.
Display area: The SL No. 2 Service Station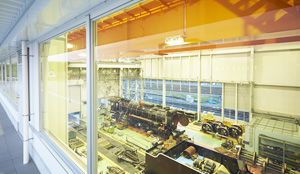 A view of trains in operation, steam locomotives and Kyoto!
Sky Terrace
The open-air terrace on the south side of the main building's third floor offers visitors a relaxing space with lots of flowers and greenery. It boasts an excellent view of the railway tracks so that visitors can watch many trains running on the various lines below, including the JR-Kyoto and Tokaido Shinkansen lines.
Display area: The main building third floor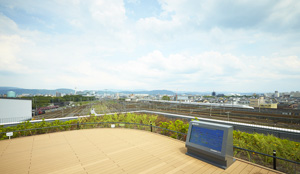 Take a close-up look at that train!
Railway vehicle factory
Utilizing a siding connected with an actual service line, trains that are still in service are also put on temporary display.
Display area: The main building first floor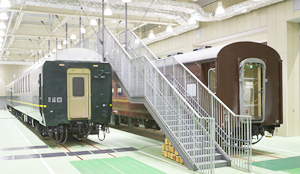 Touch
Experience the railway through touch! Visit reproductions of stations, and touch displays that explain how train wheels and couplings work!
See how various things have changed!
Ride the Train
This display area reproduces the actual equipment used in stations during the early Showa era and stations today. It is a fun place to see how the role of the station has evolved, and to learn about the work while experiencing the station atmosphere. Visitors can have hands-on experience of automatic ticket machines and turnstiles in the display of a modern station.
Display area: The main building second floor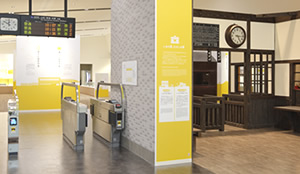 Learning is fun!
Transmitting dynamic force
Visitors learn how dynamic force is transmitted to the wheels by comparing how power is transmitted by cogs of various sizes.
Display area: The main building first floor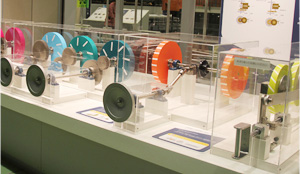 Couplers
Models are used to teach visitors about the different types of couplers used to connect train carriages, their construction and how they work.
Display area: The main building first floor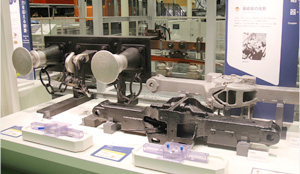 How signals, block systems and points work together
Based around actual data and working devices, this display teaches visitors about the roles of signals and points, the devices that switch trains between tracks.
Display area: The main building first floor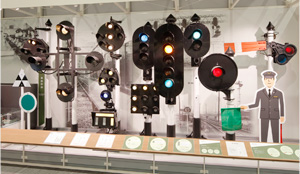 Bridge building
Visitors learn about the role, structure and construction methods of railway bridges.
Display area: The main building first floor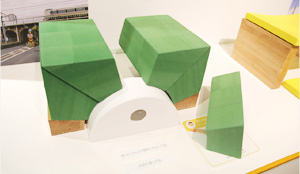 Experience
Our railway experiences include operating models and riding maintenance bicycles!
The onboard camera makes you feel like the driver!
Safe train driving
This display teaches visitors how the ATS and ATC railway safety systems work. Driving the model train is an opportunity to learn about safety while having fun.
Display area: The main building second floor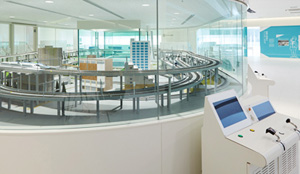 Track inspection is fun!
Rail bicycle ride
Visitors can ride one of the rail bicycles actually used to inspect railway tracks. This is a chance to experience the work of a track maintenance crew.
There is one ride per experience.
Time schedule
Activity hours
Weekends and holidays only, 10:00 to 16:30
(closed from 12:00 to 13:00)
May be subject to change when the museum is crowded.
Visitors less than 120 cm tall are prohibited from riding rail bicycles.
*Riding is prohibited even when accompanied by an adult.
Display area: The main building first floor